I have to be honest. Even though I was raised in the church, I find most Contemporary Christian music to be a little cheesy. But when I found out who all was going to be at this concert, I decided to go anyway. I will say, it was definitely different. I didn't see any beer served and wasn't interrupted by people having to go to the bathroom (or somewhere) every five minutes. So that was surreal. But what struck me the most, was not how pure and majestic the music was, but more than that was what a good person Michael W. Smith is.
Michael W. Smith puts his money and resources to help needy people all over the world. He got shout outs from President Bush #41 and from Bono for the selfless charities he champions. He does more than sing about the love God. He shares the love of God globally.
Locally, Smith opened a teen club, named Rocketown, in Nashville, Tennessee. Globally, Smith is actively involved in volunteer service and is vice chair of the President's Council on Service and Civic Participation. He is also an avid spokesperson for sponsoring children through Compassion International. These are just a few the causes which benefit from his generosity.
But let's get back to the concert. It started out being 35 friends celebrating 35 years and 35 #1 hits. But more and more asked to be part of the Michael W. Smith tribute so it became quite the ordeal.
Personally, my favorite performance, was Ricky Skaggs singing the hymn, "I'd Rather Have Jesus," with backup from the Isaacs. Even though Ricky Skaggs is a masterful mandolin player, he played no instrument. He just sang with a heartfelt sincerity that was lacking from some of the other artists.
Also, in a surprise to the audience, Michael W. Smith asked Charlie Daniels to play, "The Devil Went Down to Georgia." Even though I had seen it several times previously, Charlie Daniels did not disappoint. If you make bucket-lists, put seeing this performance on it. You can never see this astounding fiddle-playing too many times.
Of course no gospel tribute in Nashville would be complete without an appearance from the queen, CeCe Winans. Even as many others voices have become frail with age, her voice rang out loud and clear as she sang, "King of Glory."
Naturally the concert concluded with Smith's long-time duet partner, Amy Grant. She sang her own, "Love Will Find a Way," and followed by Smith's heartfelt "Thy Word" before all the artists returned to sing the undoubtedly most iconic Michael W. Smith, song, "Friends."
I totally understand if 4 hours of "praise and worship" music is not your thing. However, there is no doubt that God has His hand on Michael W. Smith. He is genuine, gifted, and most importantly, humble. And deserves the accolades that he received. May we all have a little more of Michael W. Smith in our lives.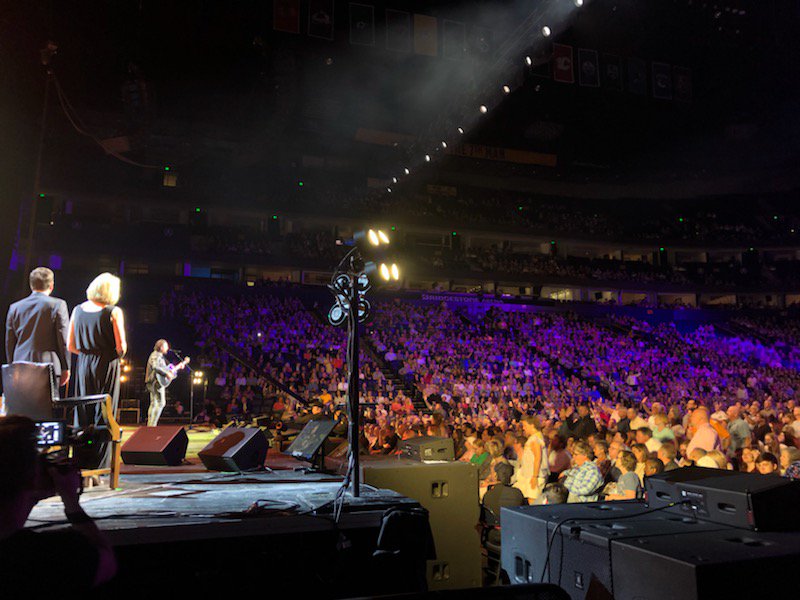 Here is the complete line-up of performances:
Phil Keaggy, Mac Powell, Phillips, Craig & Dean, Point of Grace – "Agnus Dei"
Jason Crabb – "Love Crusade"
Ricky Skaggs with The Isaacs – "I'd Rather Have Jesus"
Zach Williams – "I'll Stand"
David Hamilton – Instrumental
David Hamilton, Jordin Sparks, Jordan Smith – "All is Well"
Matthew West – "Go West"
Charlie Daniels – "How Great Thou Art"
Charlie Daniels with Michael W. Smith – "The Devil Went Down to Georgia"
Jars of Clay – "I'll Lead You Home"
Rascal Flatts – "Pray for Me"
Avalon with Jay DeMarcus – "I Will Be Here"
Mark Lowry – "Face in This World"
Gatlin Brothers with Phillips, Craig & Dean – "Shine On Us"
Sandi Patty and Natalie Grant – "How Majestic"
Jim Brickman – "Love of My Life"
Michael W. Smith with original band – "Could He Be Messiah," "Be Strong," "You Need a Savior"
Randy Travis and Steven Curtis Chapman – "Above All"
Lee Greenwood with Wes King and sons – "There She Stands"
Brian Littrell – "Place in This World"
Michael W. Smith for MercyMe's Bart Millard – "Secret Ambition"
Oak Ridge Boys – "Draw Me Close"
Nicole C. Mullen, Danny Gokey, Katinas, Matthew Ward, Calvin Nowell – "Crown Him with Many Crowns, " "Easter Song"
CeCe Winans with Point of Grace – "King of Glory"
Matt Maher – "This is Your Time"
Laura Story with Francesca Battestelli – "How to Say Goodbye"
Russ Taff – "Healing Rain"
Wayne Kirkpatrick with Vince Gill – "Never Been Unloved"
Mark Hall – "I'm Waiting on You"
Tait, Matt Maher, Avalon, Wynonna, CeCe Winans – "Help is on the Way"
Wynonna – "Majesty"
Amy Grant with Michael W. Smith – "Love Will Find a Way," "Thy Word"
All sing – "Friends"